When are the tours?
May 9 to August 23: FRIDAY and SATURDAY
10:45 am – English
1:30 pm – French
4:00 pm – English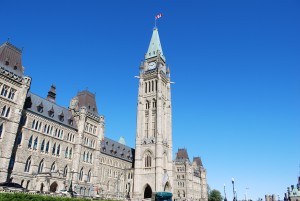 How long does a tour last?
About 1 hour and 45 minutes.
What will we see?
Our tour will begin at the National War Memorial at the corner of Sparks and Elgin. As we follow a roughly 2 km route that will lead us from Sparks Street to Lowertown, past the Parliament buildings and the Rideau Canal, our guide will be highlighting the rich history of our capital.
Must I make a reservation for a public tour?
To offer the best service possible, Tour de ville favours groups of 15 to 20 visitors. By reserving, you are guaranteeing yourself a spot. A few minutes before departure, the guide will fill the remaining spots with visitors showing up without reservations at the tour's starting point at the War Memorial (corner of Sparks and Elgin).
Where do the tours start?
Your guide will be waiting for you at the War Memorial. Knowing him, he will be standing in the shade of the trees at the left of the Memorial. He will be sporting a blue shirt, a sign with the Tour de ville logo and a smile.
How much does a tour cost?
Adults: $15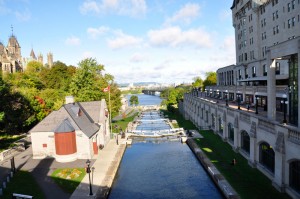 12-17 year-olds: $7
0-11 year-olds: FREE
Can I follow a tour in a wheelchair?
Of course!  There are no barriers to your discovery of the capital. The route and our stops are accessible to all.
Can we bring a stroller?
Of course! And don't forget that the tour is free for the one in the stroller! All children under 12 years of age can join us for free. And teens aged 12 to 17 pay only $7.
Is the route long or arduous?
The route, which is 1.9 km (1.3 miles) long, is relatively flat.
What happens if it rains?
Tours run rain or shine. However, a storm may lead to the tour being cancelled or paused. As intense (but often short) storms are not unheard of in the City of Ottawa, it is possible that the tour may pause while the group finds shelter, and start over a few minutes later, weather allowing.
Is the tour interesting for kids and teens?
YES! Besides having an extensive background in the tourist industry, our guide is a schoolteacher who has taught grades 7 to 12 (Secondary 1 to 5) and is able to adapt his tours to all audiences.
My teen doesn't like anything. Will he or she enjoy the tour?
Certain teens are seemingly impossible to please. During a tour or with a class, our guide will certainly be up for the challenge. You may be surprised to see an ear bud fall out of an ear, to notice that quick glances become moments of attention being paid or even a semi-positive comment being uttered at the end of the tour.
Are pets allowed?
Yes.  In accordance with municipal by-law 2003-77, all dogs must be leashed during a tour.
Before your visit to Ottawa, you may want to have a look at the following link about pets:
http://ottawa.ca/fr/residents/reglements-licences-et-permis/reglements/chiens
How many people can join the tour?
To offer the best service possible, Tour de ville accepts no more than 20 people per group.
Where may I park free of charge?
HA! HA! HA!!! That's always a good one.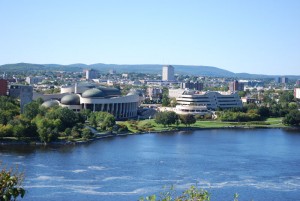 Actually… it IS possible to park free of charge, weekends only, at the World Exchange Plaza's underground parking garage (city block formed by Metcalfe, Queen, O'Connor and Albert streets). The garage is accessible by Metcalfe Street (beware of the one-way street!) and by Queen Street (which is, oddly enough for Ottawa, NOT a one way). The maximum height allowed for vehicles is 1.93 m (6′ 4″).
It is relatively easy to park one's vehicle downtown during the week. However, be prepared to pay. Tour de ville recommends picking a parking spot with no time limit.
Are visits bilingual?
No. Each visit is in English or French. English tours are at 10:45 am and 4 pm, while the French visits are at 1:30 pm.
Private tours: a private tour is all yours, and Tour de ville will be happy to offer you a bilingual tour if your group or family so wishes.
What's a private tour?
It's whatever you want it to be!
During this type of tour, members of your group are the only ones present. The route can be adjusted as you wish, and may include stopping for a meal, visiting a local attraction, passing in front of an old family home, watching the changing of the guard, etc.
Contact Tour de ville as soon as possible to reserve the date and time of your private tour, and discuss how you wish to customize the standard tour.